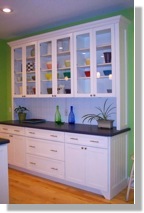 With everything being mass produced in China these days,
a good, local cabinet maker
is hard to find--especially one that can build AND finish quality cabinets
on site
. The few trim carpenters who actually
can
build quality cabinets on the job, usually do not "finish" their own cabinets (i.e. paint or stain). Typically, a painter ends up finishing the job… and house painters are rarely good cabinet finishers.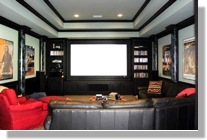 Everything we do is job-built and job-finished--true "custom" cabinets and built-ins. Our finishers were trained in one of Houston's oldest furniture shops by a master furniture maker & restorer—so instead of a one-dimensional, plastic feeling finish, our cabinets have a deeper, hand-finished quality that factory cabinets can not duplicate.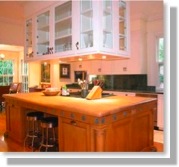 One of the most common requests we have these days is to take a wall space or a niche in a living room and design and build a
custom entertainment center
around a home theater system or large flat screen / plasma TV. That's a great idea, a great look, and a great way to add value to your home. We've designed and built dozens of these media centers in homes ranging in value from the $100,000s to the $1,000,000s.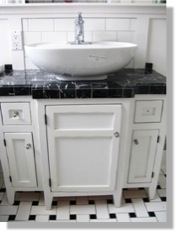 We also design and build
complete kitchens
from scratch--right on site. This can include the removal of your old cabinets, the addition of new plugs, switches, lighting, new countertops, etc. We can build paint or stain grade kitchens—or a combination of both—in a variety of styles.
Bathroom vanities and bathroom built-ins are another area where we shine—particularly historic or vintage style bathrooms. Bathrooms make or break a home. And thoughtful, experienced, well-designed bath cabinets and trim make or break a bathroom. We know how to massage every square inch of usable space out of a bathroom—without making it feel cramped or busy.
So, enjoy the site. Click through the photo galleries on the left for ideas and inspiration. Read through the FAQs for basic information. And use the Contact page to let us know about your project and how we can help!